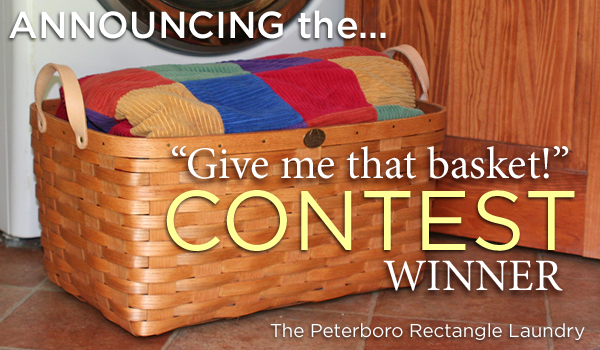 Congratulations to our three winners!

Here are the winners of our "Give me that basket!" contest. They will receive a Peterboro Rectangle Laundry Basket.
Here is the entry from Ruby Tuttle of North Kingstown, Rhode Island:
Give me that basket because I want to spread the Peterboro Basket fever with my family! I've been buying baskets from Peterboro for sometime now. i like the fact that the baskets are made of quality material and by artistic people. I made a special trip to your NH to check out your store and bought more baskets. I love that the baskets are well made, are unique and classy. But most of all I enjoy buying Made in the USA products and doing my part to support America.
Thank you Ruby!
Here is the entry from Jolen of Laconia, New Hampshire:
Give me that basket because it's made in New Hampshire . Your baskets are versatile and creative! When I sent one to my daughter in Georgia, she loved the idea of putting a picture of her children in the heart-shaped frame on the cover. So many of her friends have commented on it! I have one of your baskets filled with toys for when our grandson visits- they are so versatile. And, finally, they are affordable. Thank you for your fantastic baskets! They are in every room in our home!
Thank you Jolen, and thank you for sharing with our Southern fellow citizens.
Here is the entry from Shelley Smith of Danbury, Connecticut:
Give me that basket because it would be a big help in doing my laundry. I do laundry ALL THE TIME. I do mine, my husband's, and my son's laundry. Doing all their laundry is going to make me a basket case! Sorry about that lame pun, it must be my dry humor. I know it. I've already lost. My writing ability isn't the best. All this typing is draining. Ugh! This is a bit of a wash. I should really stick to cycling. Or perhaps watching my soaps.
Sorry for the delay in announcing our winners, Shelley. I hope this doesn't hamper your Peterboro Basket enthusiasm. :-)